Regular price
Sale price
$56.00 USD
Unit price
per
Sale
Sold out
Experience the harmonious blend of love, passion, and spiritual cleansing with our Handmade Mala Bracelet featuring Rose Quartz, Rhodochrosite, and Palo Santo. Meticulously crafted, this bracelet serves as a powerful tool for opening the heart chakra, inviting love and compassion into your life. The addition of Palo Santo not only provides spiritual cleansing but also allows you to infuse your favorite Think Unique Essential oil blends for a personalized aromatic experience. Find your perfect fit using our easy measurement guide and embrace the transformative energy of this beautiful mala bracelet.
Key Features:
Handmade Mala Bracelet: Each bead of this exquisite mala bracelet is carefully handcrafted, reflecting our dedication to craftsmanship and attention to detail. The combination of Rose Quartz, Rhodochrosite, and Palo Santo creates a harmonious synergy, amplifying their individual metaphysical properties and guiding you on a journey of love and spiritual growth.
Rose Quartz for Love and Heart Opening: The soft, soothing energy of Rose Quartz promotes love, self-acceptance, and emotional healing. It opens the heart chakra, allowing you to give and receive love more freely. Let the gentle vibrations of Rose Quartz nurture your soul and invite a deeper connection with yourself and others.
Rhodochrosite for Love and Passion: Known as the stone of love and passion, Rhodochrosite stimulates the heart chakra, awakening your inner passion and enhancing your capacity to love deeply. Its vibrant energy ignites a flame within, encouraging self-expression and emotional healing. Embrace the transformative power of Rhodochrosite as it guides you on a path of love and self-discovery.
Palo Santo for Spiritual Cleansing: The inclusion of Palo Santo adds a spiritual dimension to this mala bracelet. Known for its cleansing properties, Palo Santo helps clear negative energy and purify your spiritual space. Additionally, it serves as an excellent diffuser for your favorite Think Unique Essential oil blends, allowing you to enhance your meditation or daily rituals with personalized aromatherapy.
Perfect Fit with Easy Measurement: Finding your ideal bracelet size is effortless. Follow our simple measurement guide: Hold your arm with your hand relaxed and fingers gently outstretched. Wrap a soft measuring tape around your wrist where you would like to wear the bracelet, ensuring a comfortable tension. That's your wrist measurement! Choose your bracelet size accordingly for a perfect fit.
Embrace the transformative energy of love, passion, and spiritual cleansing with our Handmade Rose Quartz, Rhodochrosite, and Palo Santo Mala Bracelet. Let its harmonious vibrations guide you towards a heart-centered existence filled with love, passion, and inner peace.
Share
View full details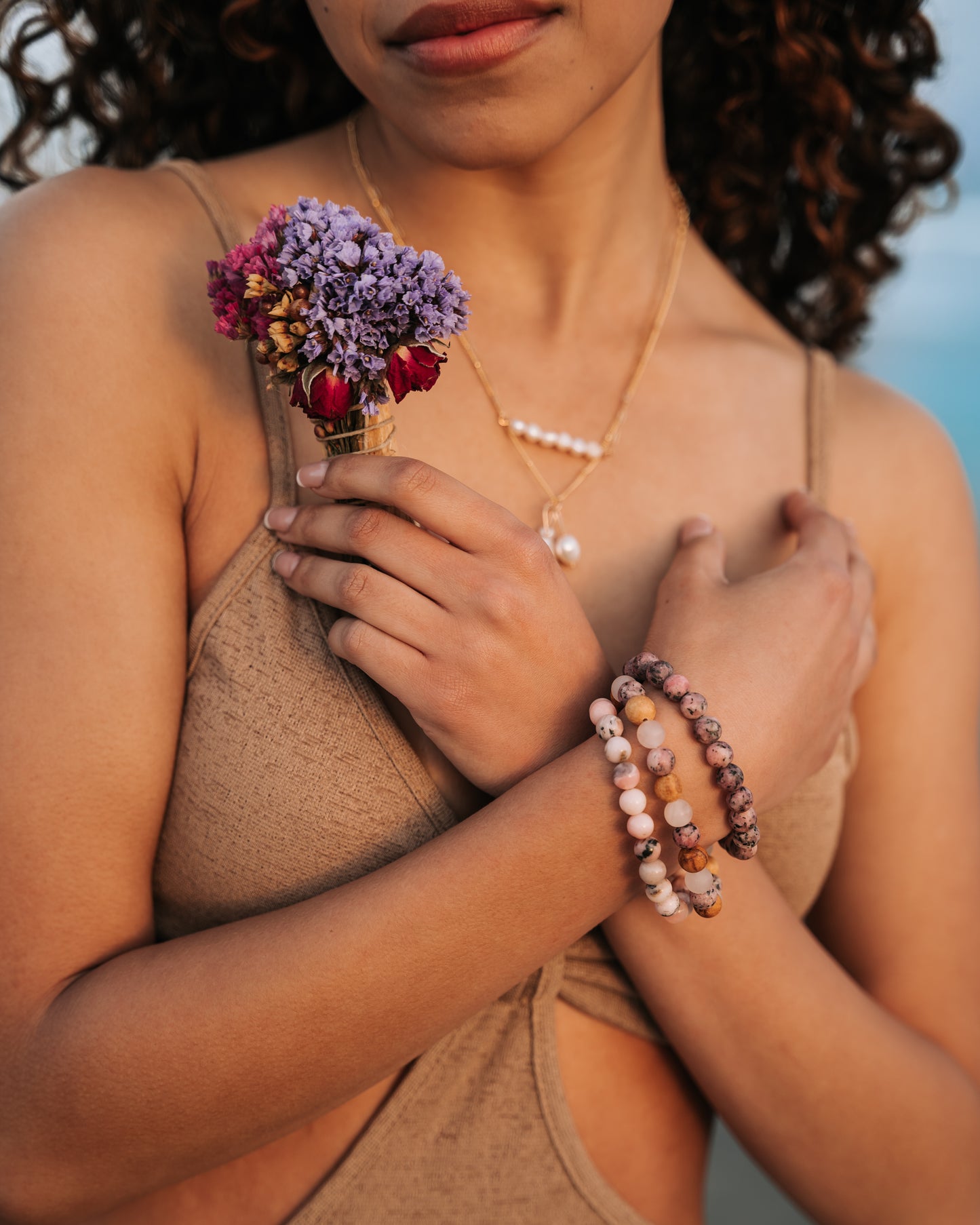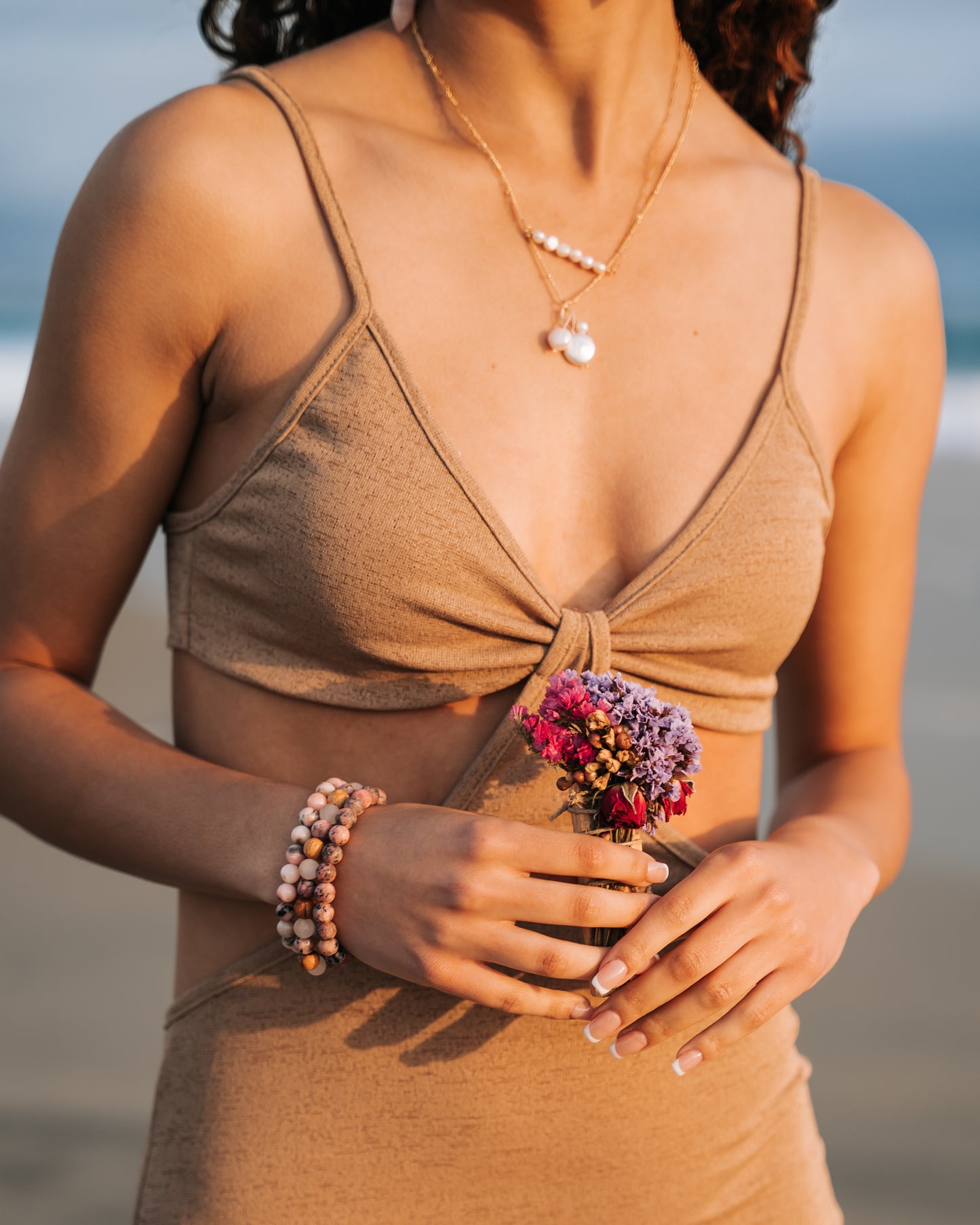 Impactful shopping

Every purchase from Think Unique contributes to spreading mental health awareness, and mental health focused organizations.

Hassle-Free Exchanges

Unhappy with your order? We're happy to fix it! Please contact us within 5 business days of arrival and we will make it right for you.